Gold Medal Excellence Client Services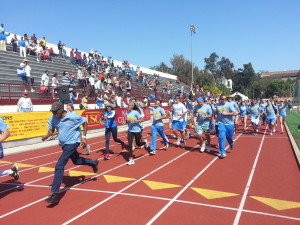 General Conditioning and Nutrition
Sport Specific Athletic Work: (Youth, Junior, Club and High School Age Athletes) Training Consisting mainly of agility drills, conditioning, core work, interval training and technical form drills given by our experience athletic trainer in Los Angeles.
Advanced Sports Training and Speed Work for High Level Athletes: (High School, University, Professional Athletes) Highly advanced training including advanced running drills and technique work. This program also consists of plyometrics, core work, advanced conditioning, strength, power and explosive exercises. This program is for the advanced skill level athlete.
All-Running Training Program: (All levels of runners from Youth to Masters) This program consists of creating a training program, running mechanics, conditioning, race modeling, etc. This program is for all running disciplines (Sprinters, Hurdlers, Mid-Distance, Distance, LDR).
Body Sculpting and Toning: This program is for actors, actresses, models and everyday people who are in basically good condition but need to "Tone" or "Firm" up. This program consists of nutrition, core work, general conditioning, and lean muscular endurance work with programs designed on an individual basis.
Special Individual Specific Training Session: These are special sessions set up for the client where they specifically want one-on-one instruction and the training routine is TBD.
Session Types Defined
Individual Session – One single session.
Multiple Sessions – Multiple Sessions set at either 1-2x a week or between 3-5 sessions a week.
Special Sessions – Catering to the elite athlete, celebrity, and business professional by appointment and referral only.
Group Sessions – At least 3 people doing the same session and training exercises.
Team Sessions – Youth, Junior, High School, Club or a Collegiate Team where that particular team is trained at a designated sight at a negotiated rate.
Training Locations
On-Site – Wherever my standard training location typically is for that day of the week (UCLA, Azusa Pacific, Runyon Canyon, etc.) at the negotiated training rate.
Off-Site or House Calls – Negotiated training cost for not being on-site + incidentals (Gas, Travel Time, Distance, Facility Cost, etc).